Bitcoin is experiencing a marginal dip today after having consecutive green closes for nearly a week. While Bitcoin takes a pause, investors are contemplating top options such as GALA, The Graph, and GMX, as well as crypto presales like Bitcoin Minetrix and Meme Kombat, in search of the best crypto to buy now.
GALA, the native token of Gala Games' blockchain-based platform, has been showing increased price volatility for the past few days. Gala is currently trading at $0.01789 up by 11.88% so far today. Over the past week, the token has seen a positive 7-day price change of 37.48%, with a market cap of $452.7 million and a day's trading volume of $331.1 million.
Among the top choices for the best crypto to buy now, The Graph (GRT) presents itself as a compelling contender. GRT's price has soared nearly 30% from its lowest level this year, hitting a high of $0.1048. This uptick was credited to an impending network upgrade and growing optimism that the Securities and Exchange Commission (SEC) will approve the first spot Bitcoin ETF.
graph.eth's Crypto Moves: Seizing Opportunities in the $GRT Surge! 🚀💼📊

graph.eth has made an intriguing deposit of 50 million #GRT , valued at $5 million, to #Binance , strategically capitalizing on the recent surge in GRT prices. 🌟📊

🗓️ Interestingly, graph.eth had… pic.twitter.com/zB2pv66VlT

— Shekhar Banerjee (@0harekrishna0) October 26, 2023
Adding to the excitement surrounding GRT, graph.eth took part in the action earlier today by depositing 50 million GRT tokens to Binance.
Another contender, GMX, is predicted to increase by 12-13% if it manages to retake its immediate resistance levels. Cosmo Jiang, an executive from digital assets investment firm Pantera Capital, suggested that GMX and dYdX, as decentralized perpetual trading platforms, could outperform Uniswap due to their clearer token value accrual mechanisms.
Rounding out today's overview of the best crypto to buy now, we have Bitcoin Minetrix and Meme Kombat, two presale tokens that present investors a chance to diversify with up-and-coming crypto tokens.
Keep reading as we detail the fundamentals and technical factors driving GALA, The Graph, GMX, Bitcoin Minetrix, and Meme Kombat in the hunt for the best crypto to buy now.
GALA Price Targets 100-day EMA: Can the Momentum Continue?
The GALA price has been on an impressive uptrend since bouncing from the October 19 YTD low of $0.01251. With gains of 37.48% on the week, GALA bulls are in clear control. While the GALA price is currently up 11.88% on the day to $0.01789, it encountered selling pressure after retesting its previous range resistance at $0.02046.
The 20-day EMA for the GALA price currently stands at $0.01448, below the 50-day EMA at $0.01515. With the 20-day EMA rising towards the 50-day EMA, a bullish crossover could emerge soon if GALA's uptrend continues. For now, the 20-day EMA trailing the 50-day EMA shows bullish momentum is building in the short term.
Meanwhile, the RSI climbed to 75.48, up significantly from yesterday's 66.77. This shows GALA is in overbought territory after its recent run-up, making a pullback likely before additional gains.
The MACD histogram rose to 0.00049, an increase from the previous day's 0.00032. The positive histogram suggests bullish sentiment is intact, though its slope shows slowing momentum.
Gala's market cap is currently expanding by 13.96% to $452.7 million as volume is surging by over 200% to $331.1 million. While the spike in volume underscores interest in GALA, profit-taking is contributing to its retreat from local highs.
GALA currently faces resistance at $0.01645 to $0.01699, near the Fib 0.5 level at $0.01666. Clearing this area is needed to signal a resumption of its uptrend.
Near-term support lies at the Fib 0.382 level of $0.01569. As long as GALA holds above this level, its technical outlook remains constructive.
However, a break below $0.01569 would put the focus on the 20-day EMA at $0.01448. A daily close under the 20-day EMA would be a bearish signal, opening the door to a deeper correction.
Gala shows a bullish technical backdrop, trading above key moving averages. But overextended indicators suggest the GALA price may see some consolidation before its next leg higher.
Monitoring how GALA acts around the $0.01569 support level will be key. A bounce from support could signal the continuation of the uptrend, while a breakdown would point to a correction. Traders may look to buy the dip if GALA can hold the 20-day EMA at $0.01448.
The Graph GRT Price Hits Resistance: A Temporary Halt or a Reversal?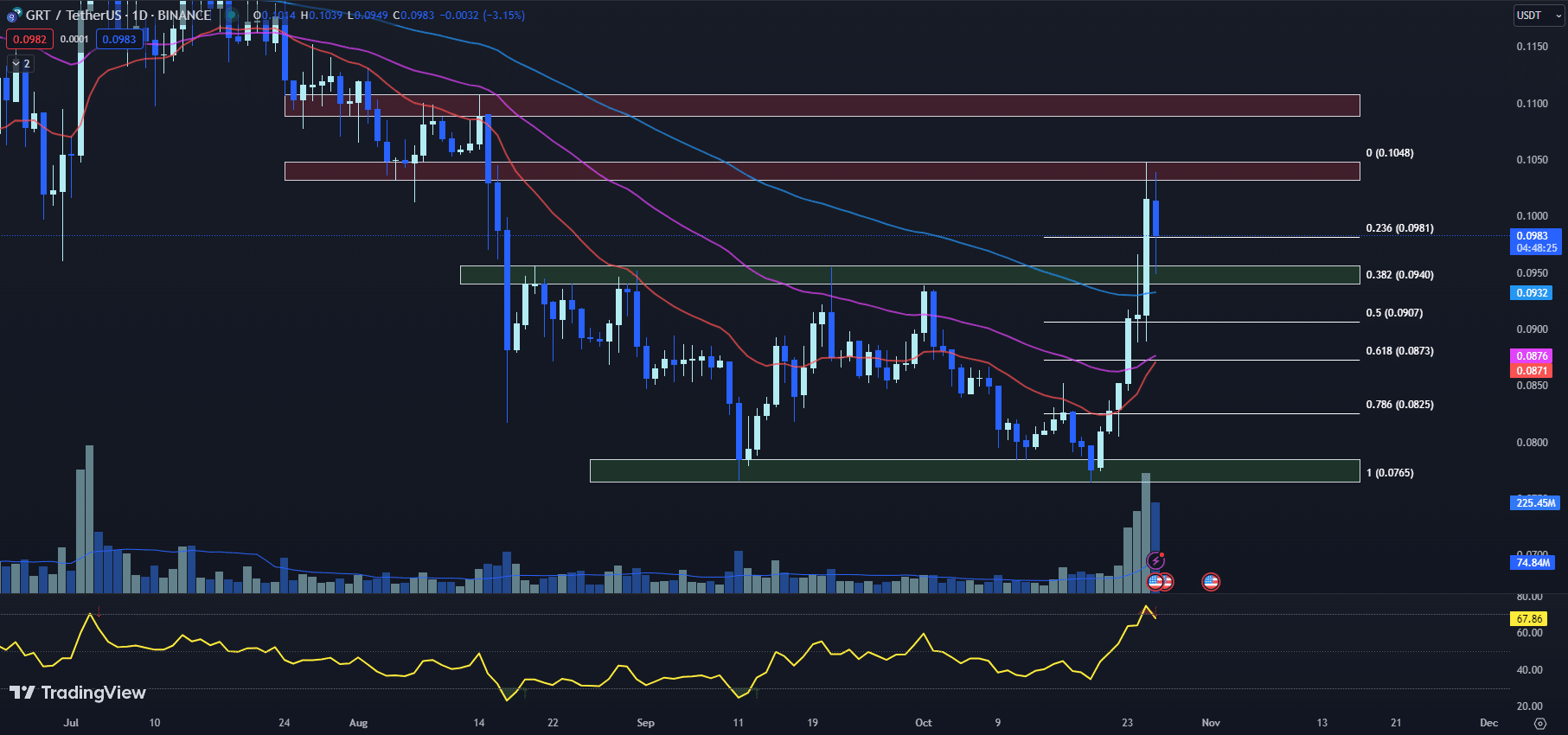 The Graph (GRT) has been on a five-day uptrend, only to hit a snag upon reaching a previous support-turned-resistance zone of $0.1032 to $0.1048. The GRT price experienced a retracement to its immediate support level, but buyers appear to have stepped in, keeping the price just above the Fib 0.236 level of $0.0981. This development indicates that a consolidation phase around these levels might be necessary before GRT can advance further.
In terms of technical indicators, the 20-day EMA for the GRT price is currently at $0.0871, marginally below the 50-day EMA of $0.0876. Under normal circumstances, when the short-term EMA crosses above the long-term EMA, it is considered a bullish signal. However, given the proximity of these EMAs, one should approach with caution, as this narrow gap suggests potential volatility in the GRT price. Investors are thus advised to consider other indicators before making any trading decisions.
The current RSI stands at 67.86, down from yesterday's 74.63. Although this is a decrease, the RSI value still suggests a strong buying sentiment in the market, which could potentially support the GRT price in the immediate future.
The MACD histogram shows a slight increase, from yesterday's 0.0021 to today's 0.0023, indicating that the bullish momentum is still in play. This suggests that despite the day's downturn, the overall sentiment remains positive, which could be beneficial for the GRT price.
Despite the positive momentum indicated by the RSI and MACD, the market cap has slightly decreased by 1.10% to $911.8 million, coupled with a 4.36% drop in the 24-hour trading volume to $87 million. This reduction in volume suggests that the day's downturn lacks substantial support, and it could merely be a minor setback in a larger uptrend.
In terms of support and resistance, the GRT price faces an immediate horizontal resistance zone between $0.1032 to $0.1048, which previously acted as a range support from August 4 to August 14. If GRT manages to break above this resistance, it could signal an ongoing upward trend.
However, on the downside, the immediate support for GRT lies at the Fib 0.236 level of $0.0981. This is closely followed by a horizontal support zone between $0.0940 to $0.0956, which coincides with the Fib 0.382 level of $0.0940. Earlier today, GRT tested this support level when it hit an intraday low of $0.0949. The buyer response at these levels helped push GRT back up to its current price of $0.0983, despite the day's overall decrease of 3.15%.
Although the GRT price has experienced a minor setback today, the technical indicators suggest that the overall bullish momentum is still intact. However, a consolidation phase might be necessary before the GRT price can continue its upward trajectory. Given the current technical picture, investors are encouraged to keep a close watch on the aforementioned resistance and support levels, as they could play a pivotal role in determining GRT's price direction in the immediate future.
GMX Price Hesitates at Resistance Zones: What's Next?
Despite setting a promising intraday high of $46.07 earlier today, the GMX price struggled to break out from its immediate resistance zones. A drop in trading volumes pulled the cryptocurrency back to its Fib 0.382 level of $41.54, marking a halt to its brief upward momentum. Still, buyer interest remains active, nudging the GMX price back up to $42.97, a 0.61% increase for the day. The market's hesitation around GMX is underlined by the potential doji candle forming at today's close.
The 20-day EMA for GMX currently stands at $38.46, slightly above the 50-day EMA of $38. This recently formed crossover typically signals bullish sentiment; however, the GMX price's current trajectory demands a more cautious interpretation. The 100-day EMA at $41.03 further underscores this guarded outlook.
The RSI has dipped to 68.10 from yesterday's 74.63, moving away from the overbought threshold, while the MACD histogram has slightly risen from 0.0021 to 0.0024, suggesting a slight increase in buying pressure. Both indicators reflect a mixed sentiment in the market, which aligns with the current indecisive pattern in GMX price.
In terms of volume and market cap, the GMX market cap has climbed by 1.90% to reach $391.2 million. The 24-hour trading volume, however, has fallen by 6.54% to $33.9 million. This divergence could suggest that despite the increase in GMX's overall valuation, trading activity has seen a slight decrease.
The immediate resistance for the GMX price lies in a zone between $42.46 and $43.61, which coincides with the Fib 0.236 level of $43.27. This area, a previous support-turned-resistance zone, poses a significant challenge for GMX's upward trajectory. An impulsive move towards the $50 psychological level is a possibility if GMX manages to convincingly retake this price level.
Conversely, the immediate support lies at the Fib 0.382 level of $41.54. This level was retested earlier today when the GMX price reached an intraday low of $41.32. Following this, the 100-day EMA of $41.03 provides a crucial buffer, potentially preventing a further downward slide.
While the GMX price has experienced a slight recovery today, the overall market sentiment remains uncertain. The mixed signals from the technical analysis, coupled with the potential doji candle, suggest that the market participants are unsure about the future direction of GMX.
Traders should keep a close eye on the defined resistance and support levels. A decisive movement beyond these could indicate the next trend for the GMX price. Until then, trading within these risk limits while waiting for a clear market signal could be the most prudent strategy.
Expand Your Crypto Exposure with Bitcoin Alternative Presales
With crypto market volatility, it pays to diversify beyond just Bitcoin. Bitcoin alternative presales allow investors to get in on the ground floor with new tokens before the broader cryptocurrency market crowds arrive.
By participating in presales, you can acquire tokens at reduced prices compared to post-launch exchange rates. This gives presale participants a head start in acquiring tokens with upside potential.
Intriguing Bitcoin alternative presales on the 2023 radar include Bitcoin Minetrix and Meme Kombat.
Bitcoin Minetrix's BTCMTX: The Best Crypto to Buy Now for Effortless Mining Gains
A new crypto mining project called Bitcoin Minetrix (BTCMTX) has been generating significant interest lately for its staking-based model that opens crypto mining to more users.
Unlike most mining platforms requiring expensive hardware and expertise, Bitcoin Minetrix will enable earning passive mining rewards by simply staking BTCMTX tokens. This provides easy access to crypto mining.
The $BTCMTX #Token, when utilised in an #Ethereum based smart contract, functions as the key to unlock #Bitcoin cloud mining. 🔓

Users can easily buy and use #BTCMTX tokens to acquire cloud mining credits, which can be exchanged for hashing power. ⛏️ pic.twitter.com/dQv3FsED2v

— Bitcoinminetrix (@bitcoinminetrix) October 26, 2023
Bitcoin Minetrix seeks to make crypto mining straightforward for everyone by partnering with major cloud mining companies and distributing profits to BTCMTX token stakers.
The project is currently in presale and has already seen strong demand, attracting over 7,500 whitelist signups to date. The presale has raised over $2.39 million so far.
Once the presale concludes, the Bitcoin Minetrix team intends to list the BTCMTX token on leading centralized and decentralized exchanges. This is expected to improve liquidity and accessibility.
Analysts have noted Bitcoin Minetrix's potential for growth with the expanding crypto mining sector. At current presale prices of $0.0112 per token, the project offers an appealing opportunity.
By utilizing a staking model and cloud mining, Bitcoin Minetrix removes the hurdles typically associated with crypto mining. This allows more individuals to participate and earn rewards.
As crypto mining gains adoption, user-friendly platforms like Bitcoin Minetrix that lower entry barriers could see increased interest. With momentum building in presale, the project appears well-positioned moving forward.
Visit Bitcoin Minetrix Now
Meme Kombat's AI Meme Battles Make It the Best Crypto to Buy Now
Meme coins like Dogecoin and Shiba Inu have a new challenger in Meme Kombat, which seeks to reignite meme mania in crypto through a platform for battling popular internet memes and betting on match outcomes using its native $MK token.
The presale has raised over $750,000 so far, reaching 75% of its $1 million goal. The current presale stage ends on November 2, when the price per token will increase from $0.1667 to $0.183. The brisk sales pace suggests this stage could finish ahead of schedule.
Bears don't know what to do anymore.

Maybe they need more training to survive in Kombat? ⚔️ #MemeKombat pic.twitter.com/O8Un6AAkt1

— Meme Kombat (@Meme_Kombat) October 26, 2023
Meme Kombat is the brainchild of Matt Whiteman, an executive at the NFT analytics firm North Technologies. His background in the NFT space has helped generate interest in the project among Web3 investors.
The project has also received coverage from major cryptocurrency publications like Cointelegraph and Coinpedia. Several crypto YouTubers with hundreds of thousands of subscribers have also spoken positively about Meme Kombat's potential.
The project appeals to meme coin enthusiasts by featuring characters like Doge, Shiba Inu, and Pepe. But it also offers utility through gaming, gambling, and staking features. For example, token holders can stake their $MK to earn yields of up to 112% APY.
With crypto emerging from a bear market, meme coins could drive the next bull run. Meme Kombat's unique combination of memes and utility could make it a breakout success if it continues to gain traction.
Visit Meme Kombat Now
Disclaimer: Crypto is a high-risk asset class. This article is provided for informational purposes and does not constitute investment advice. You could lose all of your capital.




cryptonews.com