Stepping into 2022, Bitcoin (BTC) underwent below the psychological price of $50,000 as a retail investment in the market became sluggish.
Market analyst under the pseudonym CryptoHamster believes that the top cryptocurrency should hold the $45,000 to $47,000 area for an upward momentum to be reignited. He noted:
"Bitcoin showed several cases of the support with multiple tests. Usually, it should lead to a downside breakout. However, during the uptrend, BTC always rose. But after the trend had been locally broken, the situation changed. So, now the $45k-$47k zone will define the further trend."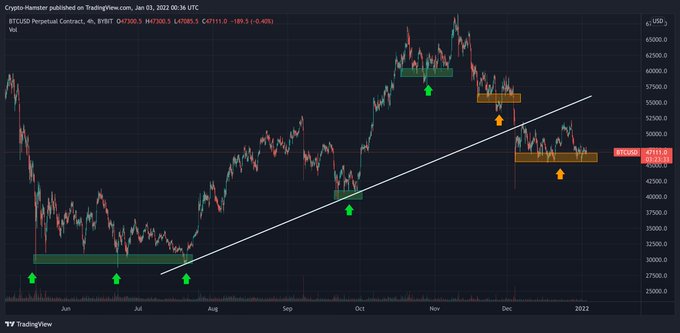 Crypto analyst Michael van de Poppe echoed these sentiments and said:
"Bitcoin rejected at the $48K level, through which it's still seeking support to be hit. Looking at the region at $46K."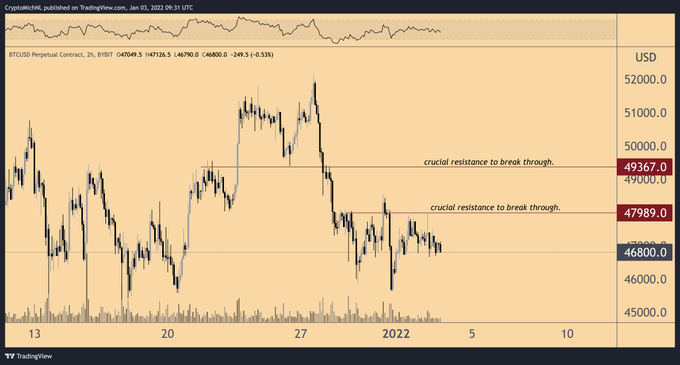 BTC was down by 1% in the last 24 hours and hit $46,614 during intraday trading, according to CoinGecko.
Nevertheless, from a macro perspective, Bitcoin looks bullish as the illiquid supply continues surging. Market insight provider Bitcoin Archive confirmed:
"Bitcoin illiquid supply keeps going up! Price 'usually' follows, but who knows when. The trend is very bullish, even though people hate hearing this when price has dipped. Uncertainty = Opportunity."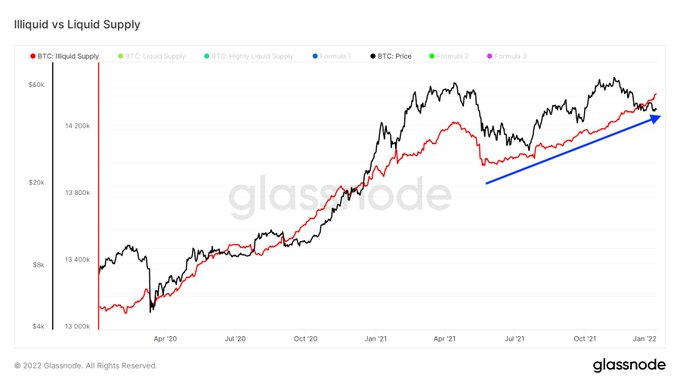 Therefore, uncertainty continues to grapple the Bitcoin market in the short-term, but bullish indicators continue popping up for the long term. 
Meanwhile, leading investment bank Goldman Sachs views a store of value. Crypto analyst Veslam stated:
"Goldman Sachs paper puts Bitcoin in a category of its own as a Store of Value (ETH relegated as solely a utility token). Also acknowledges Bitcoin's increasing role as collateral in financial transactions, and its tremendous growth potential, knocking Gold out of the park."
As Bitcoin celebrated its 13th birthday on January 3, 2022, it remains to be seen how the maiden cryptocurrency plays out this year. 




blockchain.news