The Long-Term Holder NUPL (LTH-NUPL) indicator shows Bitcoin's bottom is forming since it is at the same level as the past two significant pullbacks of 2021.
Market analyst under the pseudonym PlanC explained:
"Is the Bitcoin bottom in? BTC Long-Term Holder NUPL serves as an indicator to assess the behavior of long-term investors. It appears we have found support at the same level that we did on the last two major pullbacks of 2021."
On-chain analyst Matthew Hyland echoed similar sentiments and acknowledged that Bitcoin looked set for a breakout. He noted:
"Bitcoin breakouts for the RSI and Momentum indicators look very similar to the breakouts from September & October that lead to the massive 74%+ move ($39k–> $69k)."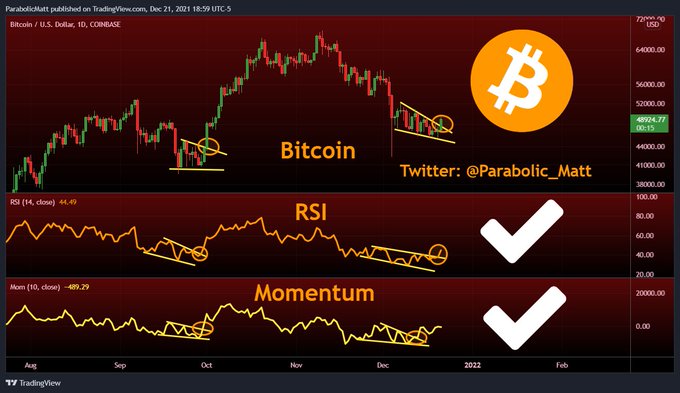 Bitcoin has gained momentum and crossed the psychological price of $50K. The leading cryptocurrency went up by 5.33% in the last 24 hours to hit $51,124 during intraday trading, according to CoinMarketCap.
Bitcoin's Lightning Network hits historic highs
According to the educational platform On-Chain College, the BTC Lightning Network capacity reached a record high by crossing the 3,300 mark.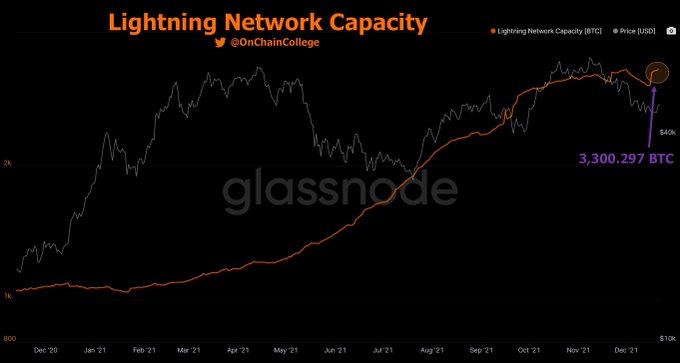 The Lightning Network is a second layer incorporated into the Bitcoin blockchain to undertake off-chain transactions. As a result, micropayment channels are utilized to scale the blockchain's capacity to carry out transactions more efficiently.
Therefore, transactions on lightning networks are more readily confirmed, cheaper and faster than that processed on-chain or Bitcoin mainnet (layer one).
Meanwhile, El Salvador's appetite for Bitcoin continues to grow as the Central American nation purchased 21 BTC on December 21. This comes days after the country added 150 BTC to its portfolio as it took another advantage of bitcoin's price dip to $42,000.
Image source: Shutterstock




blockchain.news