The Sensei Inu ($SINU) presale has surged past $300K after a highly successful launch with significant ecosystem developments in the pipeline. What's next for this trending meme coin?
It would be easy to write Sensei Inu off as another Shiba Inu copycat looking to capitalize on meme coin volatility. However, after taking time to understand Sensei Inu, it becomes apparent that this new project is pioneering crypto education and token economies.
Contrasting to the Proof-of-Stake consensus mechanism, which has risen in popularity in recent years, Sensei Inu adopts a Proof-of-Value concept, rewarding users based on their knowledge, skills, and active engagement.
Users can prove their skills on the Sensei Inu platform through various trivia games and earn $SINU as a reward.
Decentralizing Wealth Through Crypto Education
With the next bull market looming, the crypto industry is poised for a wave of new investors eager to absorb crypto knowledge. Previously, these investors would have relied on social media and paid courses, but Sensei Inu reverses this model, paying users to learn about cryptocurrency.
Incorporating this model means that $SINU tokens will be distributed to those who truly care and want to learn about crypto. This is a fresh change from the current system where market participants buy their way into crypto projects and those with the most funds get the most control.
Each Sensei Inu trivia round will feature 10 challenges that get incrementally harder. The aim is to score as high as possible, with the top 10 users receiving $SINU rewards monthly. Sensei Inu's whitepaper also notes that participants outside the top 10 will receive a small amount of rewards, too.
The platform also features a dashboard that lets users track and analyze past performances. What's more, users can set goals on the dashboard. For instance, they could aim to learn about a particular topic or to achieve a higher monthly score.
This helps users stay motivated and provides tangible data so they can grasp how well their crypto knowledge is growing.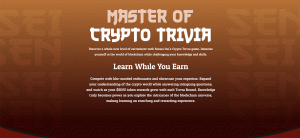 Innovative Tokenomic Structure Supercharges $SINU Price Potential
One of the primary considerations with projects that reward players with free crypto is whether they can offset the additional supply entering the ecosystem.
Interestingly, Sesei Inu has four ways to do this: burning, a DAO, referrals, and community. Each of these will offset the Proof-of-Value rewards and enable the $SINU price to flourish.
The most anticipated is its burning mechanism. Each month, a portion of the project's treasury will be burned, reducing the tokens circulating supply.
What's more, 20% of the token supply has also been allocated to burning and the game.
Sensei Inu's DAO will ensure transparency and inclusivity to the project, enabling $SINU holders to vote on project-related matters and future developments. This could provide a significant source of token demand, particularly if the Sensei Inu platform or token gains traction.
It also features a built-in referral scheme, rewarding users for bringing others to the ecosystem. A similar tactic was employed recently by Rollbit casino, which subsequently soared to a $500 million market cap.
Another factor that will offset the Sensei rewards and potentially drive its price is community. Given that meme coins are so explosive and that the Sensei Inu Twitter already boasts 8K followers, the project's hype could soar and cause a strong price movement.
There is also a 0% buy tax and a 3% sell tax. This is to help ensure price stability and incentivize long-term holding. The accrued fees will be added to the project's treasury.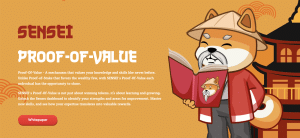 Roadmap Hints at Long-Term Growth Potential
As per its reimaginative use case, Sensei Inu features a detailed roadmap comprising five stages, each focused on ecosystem and community expansion.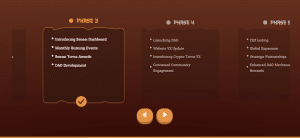 The first phase comprises website development, an initial marketing campaign, and product development.
This is followed by phase two, which includes the presale and $SINU launch.
Then, phase 3 will introduce the Sensei dashboard, token burning, trivia rewards, and DAO development.
Phase 4 will entail the DAO launch, a website and platform V2, and a community growth campaign.
Lastly, the project will focus on growing and nurturing its community through CEX listings, strategic partnerships, and improving its DAO mechanism.
It's also worth noting that once the DAO is implemented, the community will have control over adding to or altering the roadmap.
50% of Sensei Inu tokens will be available in the presale, with 20% allocated to exchange liquidity, 20% to burning and game, and 10% to the team and CEX listings.
After already raising over $300K, the Sensei Inu presale looks poised for a quick sellout. However, this means that potential investors must act fast to secure the discounted price.


cryptonews.com