Konami, the brand behind the famous games of our childhood is releasing Castlevania NFT's to commemorate the 35th anniversary of the famous franchise.  Starting January 12th, select NFTs will be released as auctions on the OpenSea platform.
14 NFTs will be released featuring various scenes from the the original games along with some visualizations of past games and maps.
Original pixel art newly drawn for "KONAMI MEMORIAL NFT". The art is based on the Dracula's Castle map that appears in-game, with the corresponding stages and the Creatures added to relive the contents of Castlevania.
The majority of the NFTs are titles BGM or background music from the game that consist of the original soundtracks from various games.
Auction Schedule
(US East)Jan.12 17:00 – Jan.14 21:00 EST
(US West)Jan.12 14:00 – Jan.14 18:00 PST
(UK)Jan.12 22:00 – Jan.15 02:00 GMT
(Japan)Jan.13 07:00 – Jan.15 11:00 JST
What is Castlevania?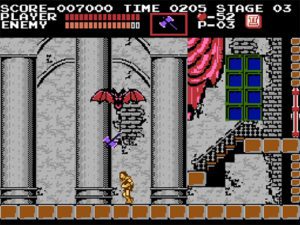 Castlevania is a video game series created by Japanese company Konami. The first game was released in 1986 for the Nintendo Entertainment System. It was one of the earliest console games to use 16-bit graphics and has since spawned many sequels, spinoffs, and other media. The games are known for their blend of gothic horror themes with exploration, combat, and puzzle solving gameplay elements.
The Castlevania series features a variety of different characters throughout the franchise's history that have appeared in video games or other media adaptations. Some notable examples include Alucard, Christopher Belmont, Dracula, Simon Belmont, Sypha Belnades, Maria Renard(s), Trevor Belmont(s), Charlotte Aulin(s), Juste Belmont(s), Carrie Fernandez
Castlevania is a classic side-scrolling action game which is well known for its difficult and dark atmosphere. It has been around since 1982 and has seen many iterations over the years.
The first Castlevania game was released for the Famicom in Japan and was simply titled "Castle" as opposed to "Castlevania." The US version of this game is often referred to as "Haunted Castle."
It has had 11 sequels spanning from 1986 to 2017.
The franchise now includes over 31 games across multiple platforms, including 16 Castlevania titles, three Akumajou Dracula titles, six Contra titles, one Haunted Dungeons title, three Cadillacs and Dinosaurs titles, one Rockman X Mega Man title.
They do have these notes on every NFT:
There are no other authorities established for the purchaser under this agreement for the NFT concluded between the Purchaser and Konami Digital Entertainment Co., Ltd. ("Konami") than the right of usage of the NFT and the purchaser benefits as separately described outside this Terms of Use in OpenSea, a platform used in relation to this agreement (i.e. the right granted to the person who purchased the NFT from Konami to indicate the fact that the purchaser purchased the NFT using the nickname on the Konami homepage (https://www.konami.com/games/memorial-nft/). ・The purchaser's nickname will be displayed when Konami deems the nickname to be reasonable based on social standards (e.g. a nickname containing information that can be used to identify a specific individual is unacceptable). Also, in the event a nickname is not reported by the date indicated by Konami using the designated method, a socially acceptable nickname is not reported to Konami, the purchaser causes or is deemed to cause the purchaser benefits to be used by a third party (e.g. causing a third party to report the nickname on behalf of the purchaser), or the NFT is transferred to a third party, the purchaser will lose the right to receive the benefits (the nickname, once displayed, will not be deleted during the period of time separately specified by Konami). Notwithstanding the above provisions, in the event Konami determines that the purchaser will illegally or inappropriately use the NFT, the purchaser will lose the right to receive the benefits (the displayed nickname will be deleted). ・The purchaser will not, by purchasing the NFT, obtain intellectual property rights (e.g. copyrights, trademark rights) in relation to the data linked to the NFT. Thus, the purchaser may not use the data linked to the NFT (e.g. reproductions) for commercial purposes. ・Konami is not able to preclude the purchaser from spreading on social media the fact that the purchaser purchased the NFT nor from transferring the NFT to a third party. ・Konami will not sell another NFT that is linked to the same data that is linked to the current NFT at any time in the future, but may sell a NFT that is linked to data based on Castlevania series in the future. ・Minors may not purchase the NFT. ・The purchaser may not cancel (e.g. return, refund) this agreement after it has been concluded. ・Konami will not be responsible for the unavailability of the HP due to maintenance, accident, or other reasons. ・Konami will only be responsible for granting the use of the NFT and purchaser benefits for the NFT and will not provide any guarantee for the NFT itself (e.g. continuity, compatibility with other services). ・Konami does not guarantee that the value of the NFT will increase after the purchase.


www.nftculture.com