On Wednesday, Bitcoin faced a modest decline of nearly 0.50%, with its trading price settling at $27,412. However, this slight dip belies the cryptocurrency's resilient performance over the past week, witnessing an impressive surge of nearly 4%. 
This uptrend is particularly noteworthy given the recent challenges faced by the digital currency sector. The US Treasury has instituted a ban on cryptocurrency wallets, a move driven by law enforcement's pursuit of controlling substances like fentanyl. 
Additionally, entrepreneur Kevin O'Leary has voiced concerns over the regulatory obstacles in the US, suggesting that these hurdles are pushing crypto innovation away from American shores.
US Treasury Bans Cryptocurrency Wallets to Fight Fentanyl Distribution
The United States Department of the Treasury's Office of Foreign Assets Control (OFAC) has imposed sanctions on cryptocurrency wallets allegedly associated with individuals and entities involved in producing fentanyl, a powerful synthetic opioid. The move comes as part of a crackdown on using cryptocurrencies in illicit activities.
The US Justice Department also announced indictments against China-based chemical manufacturers and their employees, who allegedly used cryptocurrency transactions to facilitate an illegal fentanyl precursor distribution scheme. 
Authorities believe that these companies used crypto to conceal their identities and financial activities.
As a result of the sanctions, OFAC added wallets for Bitcoin (BTC), Ether (ETH), USD Coin (USDC), Tether (USDT), and Tron (TRX) to its list of Specially Designated Nationals. Deputy Treasury Secretary Wally Adeyemo highlighted the significance of the enforcement action in disrupting the illicit drug network.
The impact of this news on BTC prices could be negative, as it underscores regulatory concerns and the potential use of cryptocurrencies in illegal activities, potentially leading to a decrease in investor sentiment.
Regulatory Hurdles Driving Crypto Innovation Out of US: Kevin O'Leary
Kevin O'Leary, the investor from Shark Tank, recently voiced his concerns about the potential negative impact of strict regulatory barriers in the US on cryptocurrency innovation.
After a congressional hearing where Gary Gensler, the Chairman of SEC, faced questioning regarding crypto regulations, O'Leary claimed that lawmakers were displeased with Gensler for allowing innovation to slip away. 
He highlighted the SEC's enforcement actions against major US-based crypto exchanges and cited the collapse of FTX as an example.
O'Leary revealed the emergence of a new exchange in Abu Dhabi, M2, set to replace FTX and Binance. He emphasized its compliance and significant financial backing, predicting that non-US exchanges might become the new industry standard. 
The potential negative impact on BTC prices may reflect concerns about stifled innovation and regulatory challenges in the US, which could potentially affect investor sentiment.
Bitcoin Price Prediction
Using a 4-hour chart for Bitcoin price prediction, the pivot point stands at $27,385, with resistances at $28,788 and $29,576, and support at $26,629 and $25,226. 
The Relative Strength Index (RSI) indicates a neutral stance at 50.29.
The 50-Day Exponential Moving Average (50 EMA), at $27,188, hints at a mild bullish trend. However, a drop below this could prompt selling.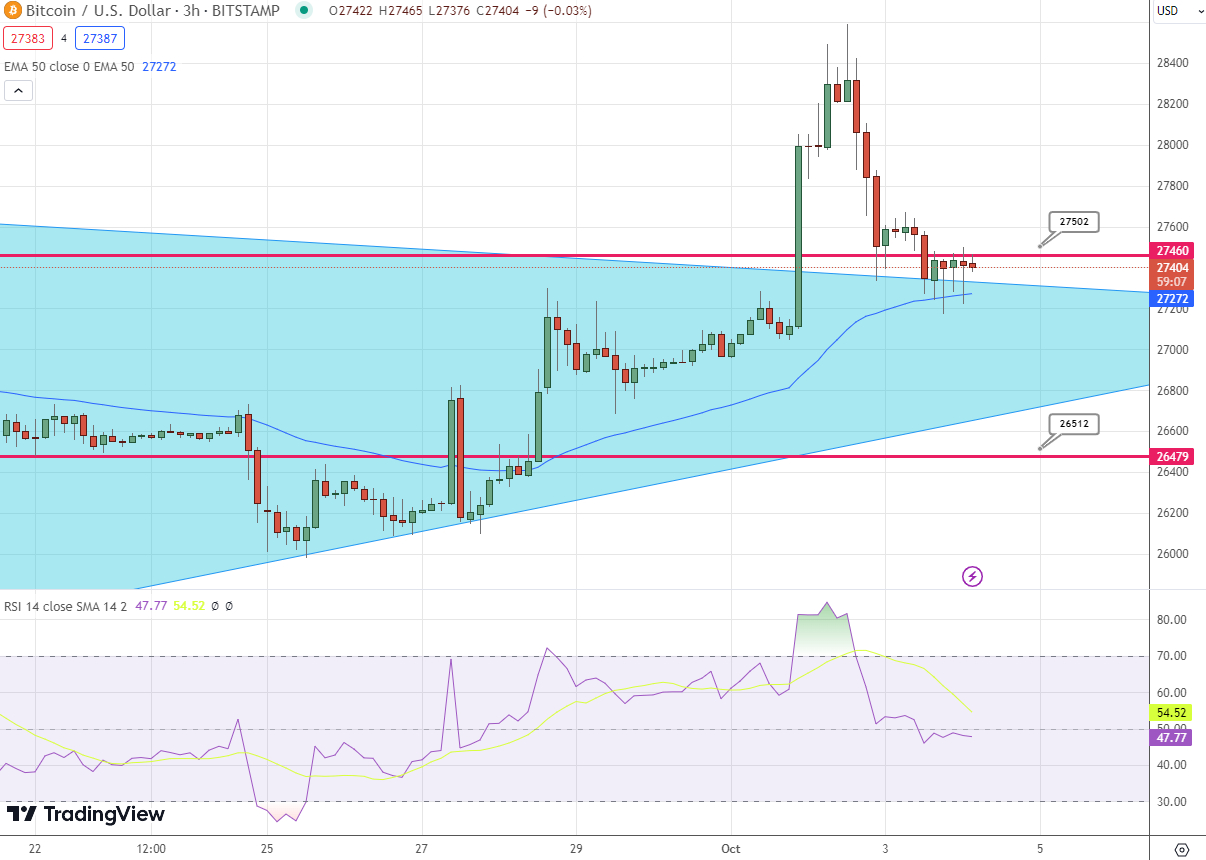 In essence, Bitcoin appears bullish above $27,150, but dipping below might signal bearish tendencies. Market updates remain crucial for traders.
Top 15 Cryptocurrencies to Watch in 2023
Stay up-to-date with the world of digital assets by exploring our handpicked collection of the best 15 alternative cryptocurrencies and ICO projects to keep an eye on in 2023. 
Our list has been curated by professionals from Industry Talk and Cryptonews, ensuring expert advice and critical insights for your cryptocurrency investments. 
Take advantage of this opportunity to discover the potential of these digital assets and keep yourself informed.
Find The Best Price to Buy/Sell Cryptocurrency

Disclaimer: Cryptocurrency projects endorsed in this article are not the financial advice of the publishing author or publication – cryptocurrencies are highly volatile investments with considerable risk, always do your own research.




cryptonews.com