The 13 year anniversary of Bitcoin, created by Satoshi Nakamoto, and its strides on all fronts have positioned it as one of the most valuable assets in the world nowadays.
When Bitcoin's price was trading at its All-Time High (ATH) above $68,700 as of November last year, the cryptocurrency was ranked by Companiesmarketcap as the 6th largest asset in the world by market capitalization. 
Market forces have stirred a downward plunge in the price of Bitcoin and the digital currency has retracted far below the $50,000 support line. At the moment, Bitcoin's 6th position is now being occupied by American retail giant, Amazon.com with a market capitalization of $1.704 trillion. Bitcoin's market cap is currently fixed at $894.98 billion and is now ranked in the 10th position.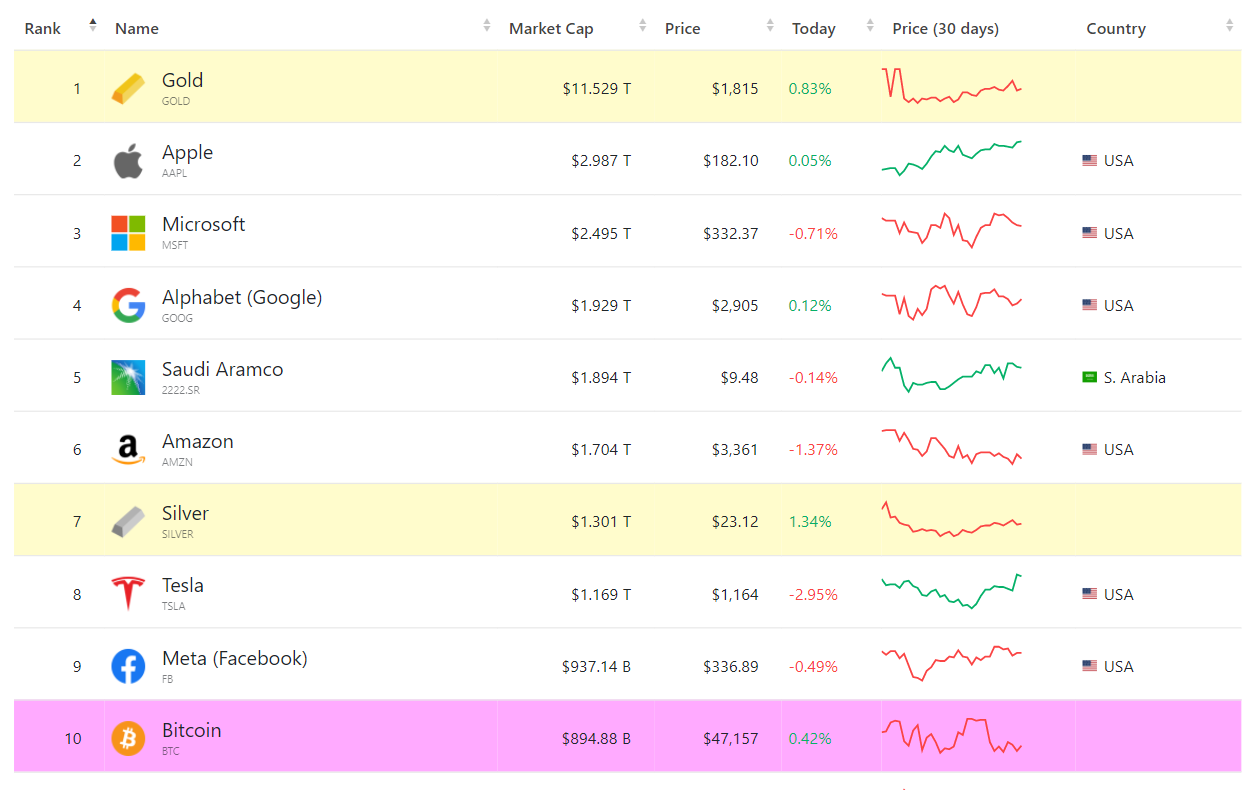 The global stock market was subjected to divergent impacts toward the end of the year as many assets closed lower and some saw massive gains. The new year opened to a boosted performance for many stocks, chief of whom is Apple, the world's second most valuable asset after Gold. Apple's market capitalization briefly touched $3 trillion a few days ago as the tech giant won the race as the first company to reach that enormous valuation.
Bitcoin's Hope to Dominate Gold is Still Kept Alive
Despite the poor outlook of Bitcoin at this time, many proponents are still optimistic that the digital currency is on track to surpass not just Apple, but also Gold in terms of market capitalization. 
Despite these huge ambitions, there is absolutely no doubt that this journey to hit this milestone which is still very far, as Bitcoin's market cap is currently less than one-tenth of Gold's which is trading at $11.529 trillion. However, should the coin's current price projections come to pass, the coin will be closer to fulfilling this goal than the way it started years ago.
As one of the arguments to support the notion that Bitcoin's outpacing of Gold is imminent is the digital currency's volatility. Many have projected that this volatility can shoot the coin's price to unprecedented levels, such that surpassing Gold will not be as much of a challenging stride as it poses to be.
Image source: Shutterstock


blockchain.news