Bitcoin's retail sentiment breaking a 30-Day low indicates a drop in market confidence.
Crypto insight provider Santiment confirmed:
"Bitcoin's drop in market confidence and an increasingly bearish bias indicate the lackluster BTC price performance has caused many to capitulate."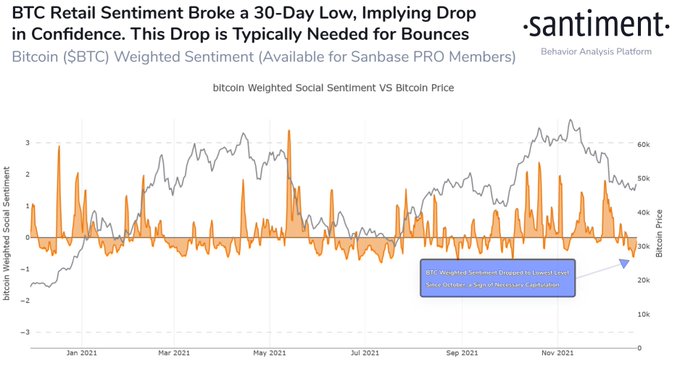 Santiment added that the slip in market confidence might be a blessing in disguise because such drops prompt an upward momentum. 
The flagship cryptocurrency has been ranging between $46K and $50K ever since it gained momentum after nosediving to the $42,000 level on December 4. 
Bitcoin was just a stone throw away from the psychological price of $50,000 by hovering around $49,310 during intraday trading, according to CoinMarketCap. 
Meanwhile, the hodling culture in the Bitcoin market continues to gain steam, given that the number of addresses hodling more than 10,000 BTC recently rose to 90.
BTC miners have also emerged as notable hodlers, signifying a trend change since March 2020. Crypto analytic firm Glassnode explained:
"Bitcoin miner unspent supply is currently sitting just 500 BTC below ATH. These coins are issued to miners as a reward for solving a block, but have never been spent on-chain. Miners started HODLing significantly more BTC since March 2020."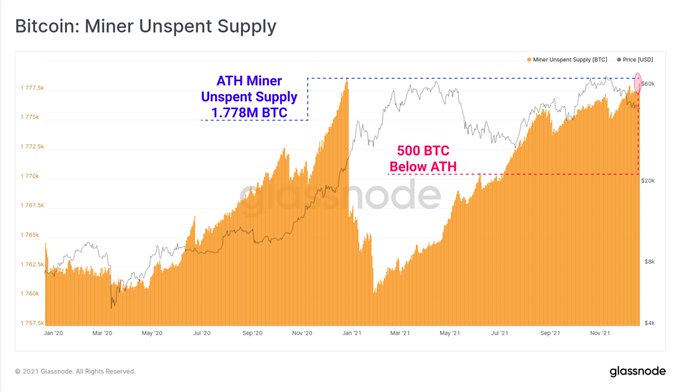 A new wave of green energy programs is being experienced in the crypto mining sector, prompted by the need for environmentally friendly and sustainable mining activities. 
For instance, EV Battery Technologies, a blockchain and battery tech company, recently launched a commercial emission-free crypto mining solution dubbed Daymak Solar Tree, meant to make Bitcoin mining environmentally friendly.
Furthermore, Riot Blockchain Inc, another large-scale American Bitcoin mining company, also joined a controllable load resource program by the Electric Reliability Council of Texas, the state's grid operator, to make mining sustainable.
In October, El Salvador's decision to use volcano power to mine Bitcoin set the ball rolling about the need for renewable energy development in this sector. 
Image source: Shutterstock




blockchain.news